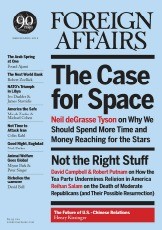 A Foreign Affairs que saiu hoje traz um artigo interessantíssimo de Neil deGrass intitulado "the case for space" onde enumera as razões pelas quais os EUA devem continuar a tentar alçancar as estrelas.
Fica aqui o abstract do artigo:
"In 2010, U.S. President Barack Obama articulated his vision for the future of American space exploration, which included an eventual manned mission to Mars. Such an endeavor would surely cost hundreds of billions of dollars -- maybe even $1 trillion. Whatever the amount, it would be an expensive undertaking. In the past, only three motivations have led societies to spend that kind of capital on ambitious, speculative projects: the celebration of a divine or royal power, the search for profit, and war. Examples of praising power at great expense include the pyramids in Egypt, the vast terra-cotta army buried along with the first emperor of China, and the Taj Mahal in India. Seeking riches in the New World, the monarchs of Iberia funded the great voyages of Christopher Columbus and Ferdinand Magellan. And military incentives spurred the building of the Great Wall of China, which helped keep the Mongols at bay, and the Manhattan Project, whose scientists conceived, designed, and built the first atomic bomb."